Domestic Violence Attorney or Lawyer
Primarily Serving Antioch, Pittsburg, Brentwood, Oakley, Concord and Bay Area CA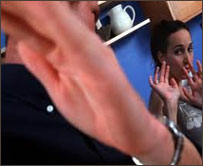 At the Law Office of Mark A. McLaughlin, a Northern California (Antioch, Pittsburg, Brentwood, Concord, Oakland, and San Francisco and..) criminal defense law firm, we aggressively protect the rights and freedom of our clients who have been accused of domestic abuse or domestic violence. Over 30+ years practicing criminal law, gives us the advantage of knowing the domestic violence laws, the prosecutors' strategies, and the best ways to prevent a domestic violence or abuse case from getting to the trial stage.

If we are contacted immediately, we can often prevent the case from being filed by the District or City Attorneys. If we cannot get the case rejected outright by the prosecutor, we can often have the matter set for an Office Hearing and avoid the time and embarrassment of a court appearance. We also help with responding to Temporary Restraining Orders (TROs) that are usually issued in these cases. There are also a large number of domestic violence and domestic abuse cases that are filed as the result of a bitter divorce or custody battle. While we limit our involvement to the criminal representation, we work closely with your family law attorney to prevent the criminal system from becoming a weapon in family court.

Domestic violence and domestic abuse crimes can include the following:
Assault and Battery
Criminal Trespass
Harassment
Reckless Endangerment
Restraining Order Violations
Sexual Assault
Spousal Rape
Stalking
Kidnapping
False Imprisonment
If you have been accused of domestic violence or domestic abuse, please contact us immediately at (925) 754-2622. For experienced, compassionate, reliable legal representation that gets results, contact My law office today by (925) 754-2622.
Law Offices of Mark A. McLaughlin
5109 Lone Tree Way, Suite B
Antioch, CA 94531, USA
TEL:
925.754.2622
FAX:
9257541104
E-MAIL:
nmclaug226@sbcglobal.net
PRIMARY PRACTICE AREA
While I enjoy the pleasure of serving clients from all over the Bay Area, my clients mainly come from Antioch, Brentwood, Pittsburg, Oakley, Concord, Martinez, Pleasant Hill, Walnut Creek, Oakland and San Francisco.
RELATED SEARCHES
Antioch Domestic Violence lawyer | Domestic Violence lawyer Antioch | Domestic Violence lawyer of Antioch | Criminal Defense Lawyer Oakley | Brentwood Domestic Violence lawyer | Domestic Violence lawyer Brentwood | Domestic Violence lawyer of Brentwood | Pittsburg Domestic Violence lawyer | Domestic Violence lawyer Pittsburg | Domestic Violence lawyer of Pittsburg | Oakley Domestic Violence lawyer | Domestic Violence lawyer Oakley | Criminal Defense Attorney Oakley | Oakley lawyer | Domestic Violence lawyer of Oakley