Stealing, Theft & Embezzlement Attorney or Lawyer
Primarily Serving Antioch, Pittsburg, Brentwood, Oakley, Concord and Bay Area CA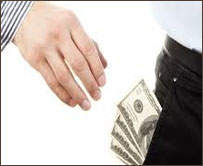 If you're facing criminal charges for theft, embezzlement, shoplifting, or burglary, you need The Law Office of Mark A. McLaughlin, a Northern California (Antioch, Pittsburg, Brentwood, Concord, Oakland, and San Francisco and...) defense attorney who will thoroughly investigate your case and aggressively defend your rights.

We defend the rights of people charged with felony or misdemeanor crimes in Northern California. Stealing and theft is a "wobbler" crime - it can be charged either as a misdemeanor or a felony. If you have a prior conviction, it's more likely your case will be charged as a felony. We will work hard to keep that charge off your record. When possible, we'll negotiate on your behalf to recommend dismissal of charges (or not to object) in exchange for an alternative sentence. Because the underlying issues in some theft cases are emotional, we work closely with professional therapists skilled in counseling people who have committed theft offenses. We have often been able to keep people out of custody through treatment.

Accused of a Crime You Didn't Commit? Security guards are not the best report writers. Our theft crime defense attorneys don't rely on security reports or police reports. We look at the security tapes and security records. We listen to your story and investigate.
A strong defense begins immediately, not in the courtroom. Early intervention can lead to no charges being filed. Call us at (925) 754-2622. Early intervention can sometimes mean your case is rejected, dismissed, or filed as a misdemeanor rather than a felony.


If you have been accused of domestic violence or domestic abuse, please contact us immediately at (925) 754-2622. For experienced, compassionate, reliable legal representation that gets results, contact My law office today by (925) 754-2622.
Law Offices of Mark A. McLaughlin
5109 Lone Tree Way, Suite B
Antioch, CA 94531, USA
TEL:
925.754.2622
FAX:
9257541104
E-MAIL:
nmclaug226@sbcglobal.net
PRIMARY PRACTICE AREA
While I enjoy the pleasure of serving clients from all over the Bay Area, my clients mainly come from Antioch, Brentwood, Pittsburg, Oakley, Concord, Martinez, Pleasant Hill, Walnut Creek, Oakland and San Francisco.
RELATED SEARCHES
Antioch Domestic Violence lawyer | Domestic Violence lawyer Antioch | Domestic Violence lawyer of Antioch | Criminal Defense Lawyer Oakley | Brentwood Domestic Violence lawyer | Domestic Violence lawyer Brentwood | Domestic Violence lawyer of Brentwood | Pittsburg Domestic Violence lawyer | Domestic Violence lawyer Pittsburg | Domestic Violence lawyer of Pittsburg | Oakley Domestic Violence lawyer | Domestic Violence lawyer Oakley | Criminal Defense Attorney Oakley | Oakley lawyer | Domestic Violence lawyer of Oakley