Drug Offences Attorney or Lawyer
Primarily Serving Antioch, Pittsburg, Brentwood, Oakley, Concord and Bay Area CA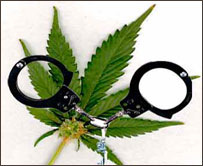 If you're facing criminal charges for possession, possession for sale, trafficking, manufacture, transporting, sales, meth, marijuana, cocaine, ecstasy, rock cocaine, heroin, pills - Don't talk to the police first! Talk to us - The Law Office of Mark A. McLaughlin, an experienced Northern California (Antioch, Pittsburg, Brentwood, Concord, Oakland, and San Francisco and ..) criminal defense lawyer with over 30 years experience with cases related to Drug Offences.

You have the right not to talk to the police. If you think you're a suspect or you've been charged with a serious drug crime in state or federal courts, let us do the talking for you. Anything you say is likely to get you deeper into trouble, even if you're innocent - especially if you're innocent.

Don't talk to police - Call us at (925) 754-2622 for a prompt response. Our aggressive, immediate representation pays off in successful results for our clients. If you're facing a drug charges that meet strike offense criteria or have prior drug sales convictions, let us negotiate with police and prosecutors on your behalf. Immediate intervention can show the prosecution that their case is weak, getting felony charges bumped down to misdemeanor charges or even getting the entire case rejected for prosecution. Do not let the police or prosecutor / DA control what happens.

Our aggressive investigative and defense tactics can pave the way for reduced sentencing and alternative sentencing options, such as diversion to drug rehab under Proposition 36, house arrest with electronic monitoring, or probation with drug testing.


To learn more.. Call us at (925) 754-2622 for prompt response. If you are facing criminal drug charges, don't talk to the police first. Talk to us. For experienced, compassionate, reliable legal representation that gets results, contact My law office today by (925) 754-2622.
Law Offices of Mark A. McLaughlin
5109 Lone Tree Way, Suite B
Antioch, CA 94531, USA
TEL:
925.754.2622
FAX:
9257541104
E-MAIL:
nmclaug226@sbcglobal.net
PRIMARY PRACTICE AREA
While I enjoy the pleasure of serving clients from all over the Bay Area, my clients mainly come from Antioch, Brentwood, Pittsburg, Oakley, Concord, Martinez, Pleasant Hill, Walnut Creek, Oakland and San Francisco.
RELATED SEARCHES
Antioch Drug Offences lawyer | Drug Offences lawyer Antioch | Antioch Drug Offences lawyer | Drug Offences lawyer of Antioch | Brentwood Drug Offences lawyer | Criminal Defense Lawyer Brentwood | Drug Offences lawyer Brentwood | Drug Offences lawyer of Brentwood | Pittsburg Drug Offences lawyer | Drug Offences lawyer Pittsburg | Drug Offences lawyer of Pittsburg | Oakley Drug Offences lawyer | Drug Offences lawyer Oakley | Criminal Defense Attorney Brentwood | Oakley Drug Offences lawyer | Drug Offences lawyer of Oakley