DUI/DWI Attorney or Lawyer
Primarily Serving Antioch, Pittsburg, Brentwood, Oakley, Concord and Bay Area CA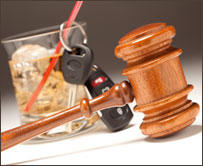 Drunk driving is sometimes referred to as Driving under the Influence of Alcohol or Drugs ("DUI") or Driving While Intoxicated ("DWI"). DUI is a serious criminal offense, one that must be addressed immediately. Rights can be lost without prompt action. Unless done properly, you could lose your driver's license without a hearing!

At the Law Office of Mark A. McLaughlin, Northern California (Antioch, Pittsburg, Brentwood, Concord, Oakland) criminal defense law firm, we know how to proceed after a DUI arrest in a timely manner, protecting your freedom and your rights. YOU HAVE TEN DAYS FROM THE DATE OF YOUR ARREST TO DEMAND AN ADMINISTRATIVE HEARING FROM THE DMV. We have an exceptional record at these hearings resulting in many clients' retaining their driving privileges. We also can advise you on how to obtain a Restricted License if you lose the hearing, shortening the normal four-month suspension to thirty days. We will explain to you the pros and cons of requesting a "Stay" on your suspension to allow you to drive until your hearing with the DMV.

We work hard defending our clients arrested for drunk driving. After many years of experience defending DUI/DWI cases, we have an in-depth knowledge of California DUI Laws, the court process, Department of Motor Vehicles ("DMV") licensing hearings, and all aspects of California DUI defense and related matters. We represent many clients from outside of California who get arrested while visiting here. Our office can make all court appearances for you, thereby allowing you to continue working without interruption.

We aggressively protect your rights, your freedom, your driving privileges, and your reputation. Some of the things we do include:
Immediately contacting the DMV to Protect Your Driving Privilege by Requesting a Hearing with the DMV
Obtaining a "Stay" on the Suspension
Obtaining a Restricted Driver's License
Advising After a California DUI Arrest
Preparing Documents
Appearing before Department of Motor Vehicles Officers
Plea Bargaining
Drafting Motions
Trial Preparation, including Evidence Gathering
Appearing Before All California State Courts of Law
Presenting Cases at Trial before a Judge or Jury
We know DUI arrests can be embarrassing and do everything possible to handle this confidential matter in a sensitive manner. If you have been accused of driving under the influence of alcohol or drugs, DUI, DWI, or any other driving offense, you need to speak with us immediately. Please contact us at (925) 754-2622 and we will aggressively protect your rights and your freedom.
For experienced, compassionate, reliable legal representation that gets results, contact My law office today by (925) 754-2622
Law Offices of Mark A. McLaughlin
5109 Lone Tree Way, Suite B
Antioch, CA 94531, USA
TEL:
925.754.2622
FAX:
9257541104
E-MAIL:
nmclaug226@sbcglobal.net
PRIMARY PRACTICE AREA
While I enjoy the pleasure of serving clients from all over the Bay Area, my clients mainly come from Antioch, Brentwood, Pittsburg, Oakley, Concord, Martinez, Pleasant Hill, Walnut Creek, Oakland and San Francisco.
RELATED SEARCHES
Lawyer Pittsburg | Antioch DUI lawyer | DUI/DWI lawyer Antioch | Antioch DWI lawyer | Antioch DUI lawyer | DUI/DWI lawyer of Antioch | Criminal Defense Lawyer Pittsburg | Attorney Pittsburg | Brentwood DUI lawyer | DUI/DWI lawyer Brentwood | Brentwood DWI lawyer | Brentwood DUI lawyer | DUI/DWI lawyer of Brentwood | Pittsburg DUI lawyer | DUI/DWI lawyer Pittsburg | Pittsburg DWI lawyer | Pittsburg DUI lawyer | DUI/DWI lawyer of Pittsburg | Oakley DUI lawyer | DUI/DWI lawyer Oakley | Oakley DWI lawyer | Oakley DUI lawyer | DUI/DWI lawyer of Oakley | Criminal Defense Attorney Pittsburg | Defense Lawyer Pittsburg | Criminal Defense Lawyer